CASA MULDER
Luxury holiday villa in Spain
Costa Blanca, San Fulgencio La Marina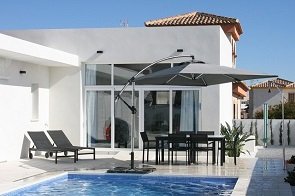 Casa Mulder
In San Fulgencio la Marina Spain you will find our 6 person holiday villa with a modern design. Fully furnished with air conditioning, 3 bedrooms, 2 bathrooms, kitchen, satellite TV, DVD player and Playstation. Large garden with terrace and private pool. The property is located 30 minutes from the airport and is located near several towns such as Benidorm, Alicante, Elche and Torrevieja. Only 8 min from the beach. (by Car) In the summermonths there is also a bus service provided between San Fulgencio and the beaches of La Marina. To fully benefit from the Alicante region a (rental)car is recommended. The villa is suitable for disabled and wheelchair users.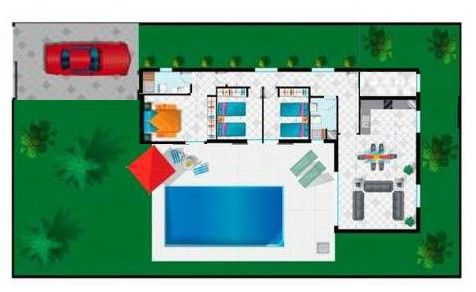 Layout
Livingroom
Modernly decorated room with lots of light and a large open front adjacent to the pool. A spacious comfortable living room with a 2 seater sofa, a 2.5 seater sofa and a nice modern 6 person dining area. The villa is equipped with a natural stone floor, barrier-free.
Bedrooms
3 bedrooms; the master bedroom is equipped with two high-to-low beds. The second bedroom has 2 box-spring beds. The 3rd bedroom is equipped with bunk beds, of which the lower bed has a width of 1.4 meters. In all rooms is enough cupboard space. Nursery furniture (cot, mattress & changing table)is available.
Bathrooms
2 bathrooms. Main bathroom fully adapted for wheelchair users.
Kitchen
A fully equipped kitchen with all modern appliances. Senseo coffee maker and gourmet set available. Filtration system for drinking water available.
Swimming pool and garden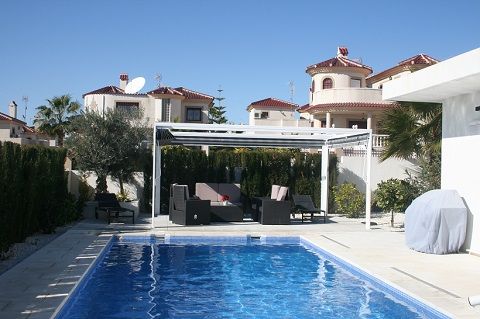 The pool is located at the south with the sun on it all day. You can jump into the pool from all bedrooms. The living room is adjacent to the pool through a large open front with an extra outdoor shower, a large garden with a terrace and palm and citrus trees. The driveway to the house is separated by means of an electric gate, this can be opened by an automatic distance control. P>